Alta Window Fashions Aluminum Blinds offer a stylish way to dress a window without breaking the bank. A distinctive color palette in two slat sizes.
Robust collection features designer color palette, several slat styles and sizes. Select from solid, metallic, and perforated styles. Our spring-tempered slats bounce back and resist kinks and dents. Alta Window Fashions Aluminum Blinds offer dust-resistant finish repels dust and makes cleaning easier.
Alta Aluminum Blinds
Uniquely modern, vintage and industrial-pro all at once, Aluminum Blinds add a sleek, metallic vibe to a kitchen or man-cave. A simple twist of the wrist opens or closes the view. Choose from a rainbow of colors and you have instant design on a dime.
Controls and Options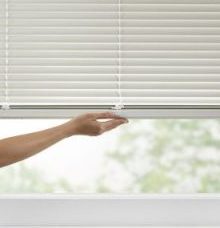 Cordless Lift & Lock
Press a button on the bottomrail to lift and lower the blind.Release the button to lock the blind into place. Combined with the tilt wand, this option is a safer option in homes with children.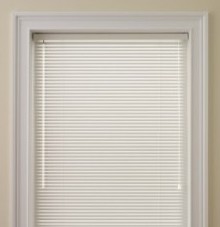 Standard Cordlock / Cord Tilt
Slats are lifted and lowered with the pull of a lift cord that features a Break-Thru tassel for added child safety. Slats are tilted open and closed with a simple twist of the wand.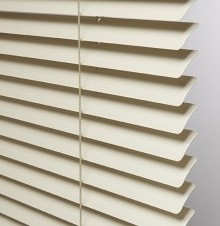 Lightsout Slats
Route holes are positioned at the back of the slat, giving blinds a clean look while blocking unwanted light and increasing privacy.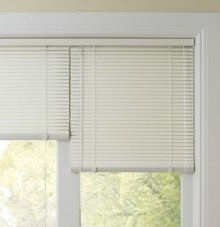 Two-On-One / Three-On-One
Keep large windows looking clean and uniform by putting two or three blinds on one continuous headrail. They look like one blind, but operate independently.
Aluminum Blind Size Options
1″ Value/Basic Blinds
Collection Economical choice in basic color palette
Slats .006 gauge slats
Valance 2-slat clip valance hides the headrail and brackets
1″ Traditional Blinds
Collections Broadest selection of colors and slat styles
SlatsChoice of .006 or .008 gauge slats
Valance 2-slat channel valance covers the headrail and brackets for finished look.
Control Option Cordless Lift & Lock™ option; eliminates lift cord control for enhanced child safety*
1″ Deluxe Blinds
Collections Premium choice with step up in style
Slats .008 gauge slats for added durability; features LightsOut room-darkening slats or optional traditional routes
Valance Beveled rail provides a seamless, built-in valance appearance
Control Option Cordless Lift & Lock™ option; eliminates lift cord control for enhanced child safety*
2″ Macro Blinds
Collection Handsome size for larger windows and a more traditional look
Slats .008 gauge slats with a choice of standard route holes or optional LightsOut feature
Control OptionsCordless Lift & Lock™ option; eliminates lift cord control for enhanced child safety*